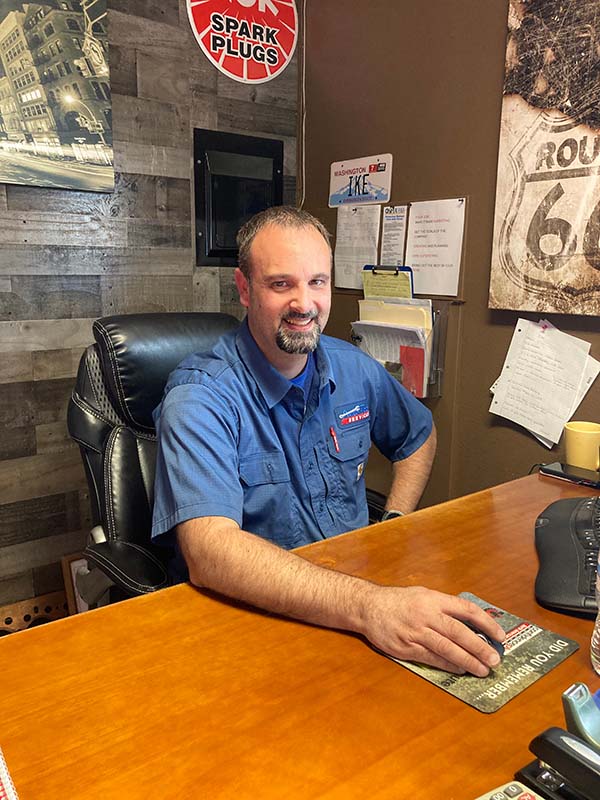 THE STORY OF THE KID FROM ASHFORD
Ike Hoskinson grew up in the little town of Ashford, Washington, just outside the gates of Mount Rainier. It was here that he found his love for the mechanics of just about everything. Technically, his first repair shop was known as Ike's Bikes. Living in the mountains, dirt bikes, 3 wheelers (if you can remember those) and 4 wheelers were how young men entertained themselves. Ike's dad, Ben, moved to Mount Rainier, reopened his body shop, and quickly became the town's fix-all. Ben, or as most knew him, Bondo Ben, loved old cars. He collected lots of what Ike thought was just junk. "It was really like an old car junkyard!  Because we had tools, everybody came to us to get stuff fixed. I learned to fix my bikes and everyone else's if we are going to have fun."
Working with his dad performing auto bodywork, Ike found the dust was very unnerving to him - like fingernails on a chalkboard. "One day, we were working on my dad's old '39 Ford truck, and I got the job of removing the driveline. I was about 10 years old. I found oil and grease in the cross member, I liked the feel and, well, dirty hands look like productive hands. So, when I came out from under the truck, you would have thought I rebuilt the whole undercarriage! LOL... I was hooked." As time went on, Ike became the town mechanic and before he was 16, he was replacing engines, head gaskets, clutches and anything else people in town needed done. "Our yard was a draw to car collectors and all weary travelers who broke down. I patched up many travelers who broke down in the mountains. Having a junkyard was nice since we had no close parts houses. I could generally find or make something work just to get someone home."
Through his high school years, Ike worked as a cook in a few restaurants around Ashford and Elbe and also worked part-time at a small independent repair shop in Graham, WA. Ike graduated from Eatonville High School and married his high school sweetheart, Stephanie. After high school, Ike went to work for Boeing, working in their assembly plant. There, we built the 757s and, like any other Boeing employee, was eventually laid off. During that time, Ike was asked to come to work at the new Nissan Of Fife Dealership. This is where his automotive career took off.
Ike was found to be worthy of training and, over the next couple of years, quickly became a Nissan Master Technician. After 6 years at Nissan, and 2 children later, he was looking for better benefits and more reliable pay to support his growing family. Ike went to work on heavy equipment for Glacier Northwest and spent 7 years working swing shifts. "2008 came and half the crew was laid off when I came to work that day. As I prepared to start my shift, panic came over me - am I going home today? How will I support my family? Then I felt peace. I felt the Lord's peace as I realized that I have a skill set. We had moved to Rochester by then, and I had been working side jobs at home so my wife, Stephanie, could be with our 3 children. I was already set up to make a living if needed. This is when the wheels started turning…I have a skill set that could support us on my own!"
Ike did not have a plan to open a repair shop, but as time went on, he prepared his home in case things got worse. By 2010, it was time. The swing shift was just getting too difficult. Ike had been working for a small car dealership from home, just as much as he was at his night job. He left Cal Portland in February 2010 and began working from his shop at home. Working with the car lot gave him the opportunity to buy, fix and sell cars as well. This went on for 6 months until one day, the car lot owner shared interest in a property Ike had brought to their attention. They went in on it together and then, after a series of perfectly timed transitions, covered in God's fingerprints, this property would become the new Ike's Auto Repair and become a thriving business in the community for the next 10 years.
Fast forward to July of 2019, Ike needed more space! He had contacted Leon Martin looking for his wisdom on how or what he could do to his building to expand. He knew Leon was great at visualizing new spaces. Leon looked around, entertained the idea for about 10 minutes and had the most unexpected solution. He offered his own family's business, Auto Tech Services, as a possible solution. Leon's sons, Merlin and Brian, or "the boys" as we called them, had opportunities arise and had been entertaining the idea of selling their shop. Ike's name had been thrown into the hat but was thought to not likely be interested since he already had a successful shop just 3 miles away. "I was really taken aback by this opportunity. I was really in disbelief." The rest is history. Ike closed his doors in October 2019 and made his way 3 miles down the road to his new adventure. Within a year, a new goal was set - to grow Auto Tech Services into a multi-store location.
2020 brought that opportunity when Randy, owner of Leduc's Auto Repair in Centralia, was ready to retire and had been constantly offering Leon his keys to the business. Talks began in mid-2020 and by January 2021, Auto Tech had a second location in Centralia, WA. Ike has plans for 2 more stores in the next five years he says, but for now, keeping these two going has proven to be a fun challenge!
2006-SEPTEMBER 2019
Once upon a time in a small town, a community where many people know each other by name, and there is only one traffic light, where the largest and only fast food .... is a 'lonely' Subway, ....we have beautiful, friendly, little town called, Rochester WA. In 2006 Leon Martin moved here to assist the local auto service and working out of a small 29x40 shop area, with a miniature office area .....has steadily grown the sales average, over 20% increase per year for 8 years straight. Thanks to great people, dedicated technicians, and all involved, it has been success. We also thank God for his blessing.
With our slogan "Neighbor to Neighbor..Bumper to Bumper" we were fast growing out of space!
We knew we needed more room if we were going to continue serving our customers in a timely/efficient manner. Looking for options while steadily growing has been challenging. Considering building new, but the permits/restrictions/zoning/costs, etc. we're all factors that limited our progress in moving forward.
So six years ago we started making plans with an existing facility and renovate to our standards. This new project ends up with six bays, additional service area which is future expansion. This also includes a very intense focus on being clean and "green" with a commitment that benefits the environment and mankind!
The Lord provided and we were able to lease/purchase the present location 18225 Pendleton St. Rochester WA. It is 4.4 acre property.
Not only are we able to assist more clients, we actually have room to park, with all security cameras/chain link fencing in place, and protecting our clients vehicles.....compared to the small 3/8 acre property we moved from.
What a job and undertaking in all the changes that needed to happen!
April 2014 we began "gutting out" the old sandblasting/repair shop that was a landmark in the community. We had a very good working relationship with the county and were able to open for business by October 14, 2014! What a blessing to be up and running with over 4000 sq. facility.
We offer a complete auto/ light truck, under hood/under-car/bumper to bumper service !
We welcome a visit anytime from clients/young and well seasoned...!
We are happy to welcome visits from, what some may call "competition".....we call them family. Anybody that is assisting in "healing" the wonderful world of automobiles is in "my family ". We are willing to share information to assist in any way we can. We believe in the ethics of honesty and putting people ahead of the money. We want to treat all customers the way we want to be treated. This is our mission!